For summer (June – August), I'm considering of offering 30-minute classes. I want to hear from you! Select as many options as you like.
Why a shorter class? Because we tend to get busier and more active in the summer and the 30-minute class can be a better fit for time and activity level. I am 100% thrilled to lead either length class!!!
What happens in 30-minute class?
You get a full-body workout in half the time!
Generally, classes are all-standing, but some may include barre (chair) or floor work.
Workouts contain the complex, circular, Essentrics® trademark movements you expect to rebalance your whole body.
Think of a 60-minute class as a main dish with sides and a 30-minute class as a one-pot meal!
Weekday morning classes will continue to be online with the option for 2 in-person spots beginning in June.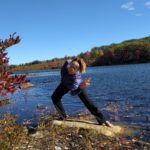 Weekday Noon and Sunday classes, will be online with 2 in-person spots available beginning in June. I envision these classes becoming in-person at some point. If you prefer online, please let me know.
What does this mean for existing class passes and class fees? 30-minute classes will be in the $8-10 range, with the sliding scale option available. I'll be in touch about existing passes and the pass structure for summer passes if we change to a 30-minute class. Thank you for your patience.
THANK YOU FOR YOUR SUPPORT AND FEEDBACK!